Welcome to the Huron Municipal Court
Proudly Serving Huron and Huron Township
MISSION STATEMENT
The Mission of the Huron Municipal Court is to provide a fair, impartial, and efficient resolution of the matters brought before it, without unnecessary delay, in a courteous manner.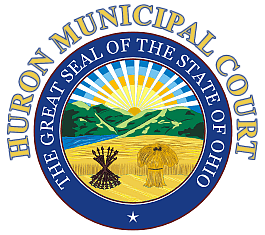 Huron Municipal Court
Operational Changes in Response to COVID-19
Public Health Crisis
Effective March 13th, 2020
In the interest of public health during the COVID-19 crisis, Huron Municipal Court has modified its operations to minimize the number of people who need to come to the court house. Members of the public are encouraged to follow guidance from Public Health Officials and stay home if they are in a higher risk group or are feeling sick. These are intended to protect public health, to maintain essential court functions and continue to protect the rights of all individuals subject to authority of the Court. Here is what to do if you have court business:
What if I have a hearing to contest or mitigate my ticket?
All appearances for mitigation and contested hearings will be continued until further notice, if a time waiver is in effect. The Court will reschedule your case as soon as reasonably possible.
What if I have a Pretrial or hearing scheduled with my Attorney? (This includes all Civil Court matters where time is not a factor in the outcome)
Huron Municipal Court will grant agreed continuance requests on out-of-custody matters for non-mandatory hearings. If you are a defendant in the case, contact your attorney as soon as possible to reschedule your hearing. Your attorney will contact the court and file the motion accordingly.
What if I have jury duty?
Jury Trials are suspended as of this date; the jury pool will continue their service upon reinstatement of Jury service to the Huron Municipal Court. Jurors will be contacted and told not to appear.
What if I need to pay a ticket or fine?
The Huron Municipal Court requests that you utilize the online portal, or pay by phone for all payments until further notice. The website can be found at https://www.huronmunicourt.us/. The phone number is (800) 701-8560 to pay using Visa or MasterCard.
What if I have an appointment with my probation officer?
As soon as possible, we are extending telephone reporting to as many probation clients as possible. Please report per your regular schedule until contacted by your probation officer. The Probation Officer, alone, shall make the determination as to whether you are eligible for your telephone check in. If you have questions or are unable to make an appointment, please contact your probation officer.
What other steps is the court taking?
Huron Municipal Court is taking precautions to maintain a safe and healthy court environment for all court participants, visitors and staff in response to COVID-19. We actively coordinate with other governmental public health agencies to ensure that we are following up to date guidance in our response.
As the situation is quickly evolving, we will keep constituents informed on our website.
Janitorial staff are more frequently disinfecting doors, handles and surfaces in public areas of the courthouse. Visitors are encouraged to use hand sanitizers and as always, wash your hands often, avoid touching your face, and cover coughs and sneezes.
Employees are highly encouraged to use their discretion in coming to work. All absences cna be paid using leave balances or unpaid, if the employee requests.
This is and herby shall become effective this 13th day of March, 2020
William Steuk
Judge
Huron Municipal Court
Court Hours
Monday - Friday
8:00 am - 4:00 pm>
Court offices are closed on all legal holidays.
---
Court Address
417 Main Street
Huron, Ohio 44839
---
Court Phone Numbers
(419) 433-5430 Phone
(419) 433-3272 Fax
---
Court Email
---